Touch Screen Automatic & Speed Adjustable Fiber Polishing Machine HK-20V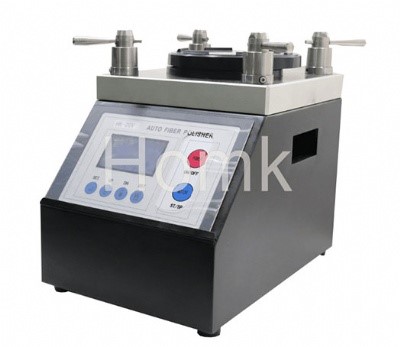 Product name : Touch Screen Automatic & Speed Adjustable Fiber Polishing Machine HK-20V
Products Category: > Fiber Polishing Machine

Touch Screen Automatic & Speed Adjustable Fiber Polishing Machine HK-20V
HK-20V using industrial microcomputer development, It can set motor speed, timing, counting, improve the whole. The stability of automatic fiber polishing machine. The automatic fiber polishing machine adopted advanced technology, the key of increasing machine and waterproof properties.
The machine has 8 groups process programming, including: Grinding time programming, increasing number of programming time programming. LCD blue backlight shows.
1, Compatibility of other automatic fiber polishing machines when we designed this automatic fiber polishing machine, taken full account of the consumables (abrasive film), Jig & Fixture used currently the most widely used 127mm and corner positioning, compression work. Fixture can be with other manufacturers equipment exchange, and do not make any adjustments.
2, It applies to a wide range of equipment, with no need of any external equipment, an area of less stable production. As long as necessary in accordance with the replacement of fixtures, automatic fiber polishing machine can produce different types of connectors, automatic fiber polishing machine suitable for production and scientific research trial orders.
The polisher is versatile and be efficient and fast produced all kinds of standard fiber optic connectors type with dedicated fixture: FC / PC FC / APC SC / PC SC / APC ST / PC ST / APC LC / MU MT-RJ 8 deg. Or 0 deg MPO MPX MTP, E2000, D4 etc BD. In addition, the automatic fiber polishing machine is able to Polish SM, MM and PM optical fiber connectors and other specialized types.
2.2. Basic function
A: Working voltage
The fiber Polishing machine to work AC220V voltage.
B: Stepless speed
Button control functions, speed range: 10n/m ~ 100n/m.
C: Process programming
It can undertake 8 groups, including: Process programming of grinding time, several
Programming, programming adding time of programming.
D: Automatic counting
Each time you press the start button, then automatically add 1 counter
E: Automatic shutdown
5 minutes without operation, automatic shutdown.
F: Sound function
When the button "BB" sound, At the end of the process, "a" BB.
G: Positive &negative function
Can be positive &negative Settings.
H: Memory function
All data: Speed setting, grinding process, and count are used EPROM memory, whenthe power is cut off, and the data will not is lost.
I: Buffer
Buffer to protect machines, protect polishing film.
Pressure way
4 coil spring
Insert Loss
0.3 dB (SM)
0.2 dB (MM)
Polishing capacity(max)
SC, FC, ST: 20, 48 units LC: 24, 48units
Return Loss
50 dB (PC)
60 dB (APC)
Polishing connector type
FC, SC, ST, LC, MU, MTP, MPO, MTRJ and so on
Radius
10~25mm
Motor speeed
80-150rpm/min
Offset
50 μ M
Dimension
326L *216W* 420H
Under cut
50nm
Film size
5′ '
Repeatability
  0.1dB
Weight
36KG
Interchangeability
0.2 dB
Input voltage
100-120VAC, 50/60Hz or 200-240VAC, 50/60Hz
Working Situation Temperature
  -10— +40º C
polishing cycle
3.0min
Heavy punch
500g or 250g
Polishing chassis diameter
130mm
Polishing time setting
0-300seonds
Counterweight pressure
  2.1~3.6kgf/cm
Speed Range
0-280rpm/min
Polishing Time
4min
Pressure Range
0-5kg
Send Inquiry :
Related Products :
Contact Us
Tel: +86-755-86719651
Fax: +86-755-86719652
Mobile: +86-15875522184
E-mail: [email protected]
Add: Building 925, Chuangye Park, Li Shan Road, Taoyuan Street, Nanshan District, Shenzhen City
Whatsapp: +86-15875522184