Handheld fiber polishing machine HK-M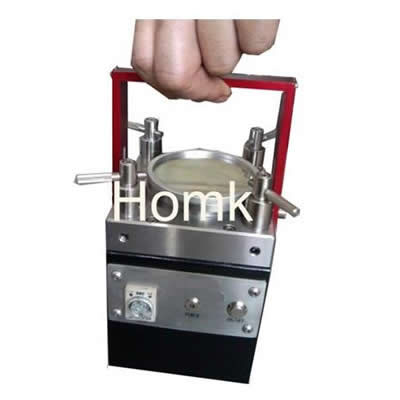 Product name : Handheld fiber polishing machine HK-M
Products Category: > Fiber Polishing Machine

Handheld fiber polishing machine HK-M
Features:
1 HK-M is Homk 2012 new machine, it also adopt two Janpan mini motors, inside uses bearing drive work(Inside wheel bead in turn), will not wear out other metal parts.
2 The polisher is suitable for small batch polishing, return polishing. Excellent performance, high efficiency and durable polishing machine
3 It is very good mobility, a maximum of 6 polishing head. Polishing cycle is very short, inside all components adopt USA PQP metal hardening technology, Surface hardness up to 80 degrees, it is highly wearable.
4 Operation flexibility is high fast processes (just 30S)each kind of connectors(can processing: FC, SC, ST, LC, MU, MTP. MPO, MT, MTRJ, E2000 ect)with high effect, low insert loss and low return loss. Low repair coefficient. The good interchangeability and repeatability.
5 This machine is very suitable for laboratory and engineering construction application and good stability. HK-M has a strong shell packaging, simple design easy to operate. And
Convenient and safe to carry
Handheld fiber polishing machine Parameter
1. Applicable Connectors: FC, SC, ST, MU, LC, E2000, MPO, MTP, MTRJ UPC or APC and so on,
2. Weight: 2.85Kg
3. Dimensions: 100mm L*120mm W*120mm H
4. Power: 12vDC
5. Polishing Time: 0 – 30 sec. (1 piece timer)
6. Polishing Method: Rotation & revolution
7. Motor speed: 100rpm/rotation
3.3rpm/revolution
8. Power: 15W
9. Polishing capacity: 1-6connectors
10 Voltage: 12VDC
11. Plate size/ Film size: 68mm
Environmental protection, simple design easy to operate.
Pressure way
4 coil spring
Insert Loss
0.3 dB (SM)
0.2 dB (MM)
Polishing capacity(max)
SC, FC, ST, LC: 6 units
Return Loss
50 dB (PC)
60 dB (APC)
Polishing connector type
FC, SC, ST, LC, MU, MTP, MPO, MTRJ and so on
Radius
10~25mm
Motor speeed
100rpm rotation, 3.3rpm revolution
Offset
50 μ M
Dimension
120*130*180mm
Under cut
50nm
Film size
68mm
Repeatability
  0.1dB
Weight
2.85kgs
Interchangeability
0.2 dB
Input voltage
12vDC
Working Situation Temperature
  -10— +40º C
polishing cycle
30-60s
Heavy punch
500g or 250g
Polishing chassis diameter
80mm
Polishing time setting
0-60s
Counterweight pressure
  2.1~3.6kgf/cm
Time Range
0-60S
Polishing Time
2 min. (quick assembly type)
3-4 min. (standard connectors)
Pressure Range
0~3kg
Precession Speed
1rpm
Send Inquiry :
Related Products :
Contact Us
Tel: +86-755-86719651
Fax: +86-755-86719652
Mobile: +86-15875522184
E-mail: [email protected]
Add: Building 925, Chuangye Park, Li Shan Road, Taoyuan Street, Nanshan District, Shenzhen City
Whatsapp: +86-15875522184