Automatic Central Pressurized Fiber Polishing Machine(HK-13S)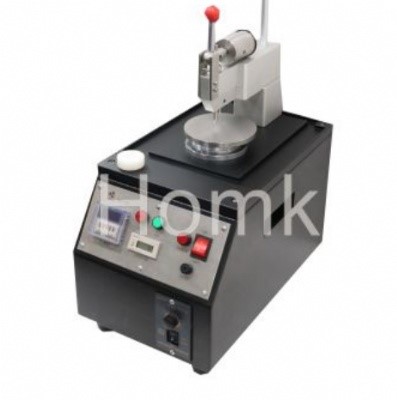 Product name : Automatic Central Pressurized Fiber Polishing Machine(HK-13S)
Products Category: > Fiber Polishing Machine

Automatic Central Pressurized Fiber Polishing Machine(HK-13S)
1.Overview
The HK-13S developed with the use of industrial grade industry-specific microcomputer, this fiber polishing machine development and into set motor speed, time and count in an organic whole, the fiber polishing machine improves the stability of the machine. The fiber polishing machine is dopting advanced technology.
2. Product introduction:
The polisher designed for Polish ceramic, quartz, glass, metal and plastic etc. And this fiber polishing machine can manufacture various standard optical fiber connectors: FC/UPC, SC/UPC, ST/UPC, LC/UPC, MU/UPC, FC/APC, SC/APC, MT – RJ, E2000 etc various types of optical fiber connectors should may at any time storage, edit pressure and time parameters.
This machine is easy to change jig and polishing films, simple to disassemble and increase pressure.
3. Our HK-13S stored edit pressure and time parameters at any time, unloading and very expediency to load, unload and exchange Polish fixtures and films on the fiber polishing machine.
4. It's quality is stable and high quality, low repair rate and defect. And the fiber polishing machine designed to adjust velocity, to insure polishing quality. And it's speed can be adjusted at any time (0 ~ 170rpm).
5. The polisher's production high efficiency (number of units can be composed of parallel lines) and (countable sets of production line)and compact to establish production line.
6. This fiber grinder is consumables save, grinding cost is low. The fiber polishing machine can save polishing films and reduce polishing cost. And water can be used as polishing liquid, saving product cost.
7. Atmosphere/water and power supply are designed in respectively, To insure operation is safety. The fiber polishing machine junction with respectively and module control to make repair easy.
8 It is prositive and negative rotation, easy to handle and adjust, in addition, machine logo and plant color can be assigned.
Stepless speed regulating
Buttons speed adjustment, speed range: 0n/m~170rpm, Each time you press the speed control key speed.
Automatic fixed time
Timing function with the countdown display. Timer time to the machine, time up automatic stop working.
Automatic count
Each time you press the button, the counter automatically increase 1 times, used to grind paper used times of memory.
Grinding speed can be adjustedfrom0 to 170rpm.
Can grind to other similar products
1. The power switch: Control the machine the opening/closing.
2. Start switch: Control the machine operation.
3. Insurance (FUSE): Insurance specifications for: 250V / 0.5 A.
4. Governor: To adjust motor speed, in order to satisfy the needs of different materials for grinding.
5. Open and close button: Press "RUN" button, the equipment running, press the"STOP" button, equipment stop working.
6. Timer: Setting and display the polishing time.
7. Counter: Record grinding number, if want to recount, can press the reset button.
8. Heavy hammer: Adjust heavy hammer position, adjustable grinding pressure, a total of three different gear is available.
9. Compaction pin: The pressure in the center, to grind fixture put some pressure.
10. Prevent turn pin: Insert in jig anti turn groove, prevent grind chassis rotation.
Send Inquiry :
Related Products :
Contact Us
Tel: +86-755-86719651
Fax: +86-755-86719652
Mobile: +86-15875522184
E-mail: [email protected]
Add: Building 925, Chuangye Park, Li Shan Road, Taoyuan Street, Nanshan District, Shenzhen City
Whatsapp: +86-15875522184