Waterproof outdoor GYFJH ODVA FUALX-DLC fiber optic patch cord cable…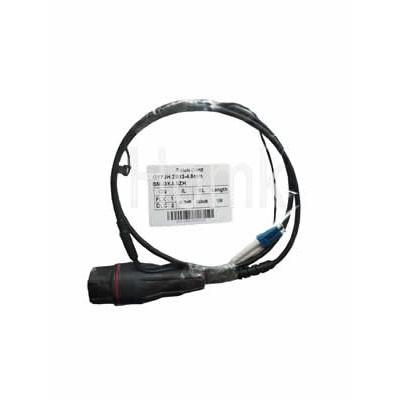 Product name : Waterproof outdoor GYFJH ODVA FUALX-DLC fiber optic patch cord cable…
Products Category: > Waterproof Fiber Series Products

Waterproof outdoor GYFJH ODVA FUALX-DLC fiber optic patch cord cable FTTA
PDLC Optical Cable Assembly Waterproof Outdoor Protected Cable is  standard size for Duplex LC Connectors, and the outer housing with  metal protective device. Also they meet with the functions of  waterproof, dustproof. This patch cords widely used in FTTA,  Base station, and the outdoor waterproof condition.The PDLC Waterproof patch cord used for outdoor RRU transmitting optical signal and remote fiber feeder etc.
Features:
1. Standard Duplex LC connector, well connected with standard LC adaptor
2. Available Single mode and Multimode
3. P67 protection, salt-mist proof, humidity proof,dust proof
4. Aluminum housing, compact design
5. Broad temperature range and wide range of indoor and outdoor cables
6. Easy Operation, reliable and cost-effective Installation
7. Low insertion/return loss, steady optical transmitting.
Applications:
1. Telecommunication networks
2. CATV, LAN, MAN, WAN, Test &Measurement
3. Optical access network,Used for 3G 4G base station
4. Fiber optic communication networks
5. BBU, RRU, RRH, LTE,FTTH,FTTA
Features:
Stable and high quality
Meet IEC, JIS, Bellcore international standard requirements
High performance and cost effective
Mass and flexible production meeting various demand
Custom assemblies available upon request
OEM available upon request
Mechanical & Material Data
| | |
| --- | --- |
| Application | FTTH FTTB FTTX Network system |
| Connector Type | MPO ,MTP, MTP (Elite),MPO (Elite) |
| Fiber Type | SM G657A2 or Customized |
| Storage temperature | -40C ~ +85C |
| Material of jacket | PVC/LSZH sheath |
| Connector type | LC ODVA |
| Certification | ISO9001:2015,OHSAS18001,ISO14001 |
Send Inquiry :
Related Products :
Contact Us
Tel: +86-755-86719651
Fax: +86-755-86719652
Mobile: +86-15875522184
E-mail: [email protected]
Add: Building 925, Chuangye Park, Li Shan Road, Taoyuan Street, Nanshan District, Shenzhen City
Whatsapp: +86-15875522184