Waterproof PDLC 6 Core outdoor Fiber Patch Cord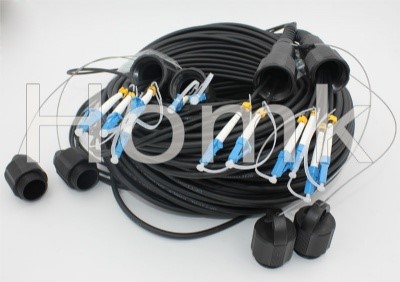 Product name : Waterproof PDLC 6 Core outdoor Fiber Patch Cord
Products Category: > Waterproof Fiber Series Products

Waterproof PDLC 6 Core outdoor Fiber Patch Cord
Features
Specification:
The PDLC Waterproof patch cord used for outdoor RRU transmitting optical signal and remote fiber feeder etc;
1. Standard Duplex LC connector, well connected with standard LC adaptor
2. Available Single mode and Multimode
3. IP67 protection, salt-mist proof, humidity proof, dust proof
4. Low insertion/return loss, steady optical transmitting.
5. Light weight, waterproof, dustproof, moisture proof, Metal hard housing.
Applications
1. Widely used in FTTA & FTTH
2. Used for 3G 4G base station
3. BBU, RRU, RRH, LTE
Cable Parameters:
Fiber Count
Cable Dimension

mm

Cable Weight

kg/km

Tensile

N

Crush

N/100mm

Min. Bend Radius

mm

Range of Temperature

Long Term
Short Term
Long Term
Short Term
Dynamic
Static
2
7.0
42.3
200
400
1100
2200
20D
10D
-30-+70
Note: 1. All the values in the table, which are for reference only, are subject to change without notice;

2. The cable dimension and weight are subject to the simplex cable of 2.0 outer diameter;

3. D is outer diameter of the round cable;
Structure:
Connector Specification:
| | |
| --- | --- |
| ITEM | PARAMETER |
| Connector type | DLC/UPC . PDLC |
| Insertion Loss | <=0.3db |
| Return Loss | >=50db |
| Fiber mode | Single mode 9/125 |
| Operating wavelength | 1310nm, 1550nm |
| Test wavelength | 1310nm, 1550nm |
| Repeatability | <=0.1 |
| Interchangeability | <=0.2dB |
| Durability | <=0.2dB |
| Fiber Length | 1m, 2m….. any length optional. |
| Length and tolerance | 10cm |
| Operating Temperature | -40C ~ +85C |
| Storage Temperature | -40C ~ +85C |
Send Inquiry :
Related Products :
Contact Us
Tel: +86-755-86719651
Fax: +86-755-86719652
Mobile: +86-15875522184
E-mail: [email protected]
Add: Building 925, Chuangye Park, Li Shan Road, Taoyuan Street, Nanshan District, Shenzhen City
Whatsapp: +86-15875522184