Corning OptiTap Compatible Fiber Adapter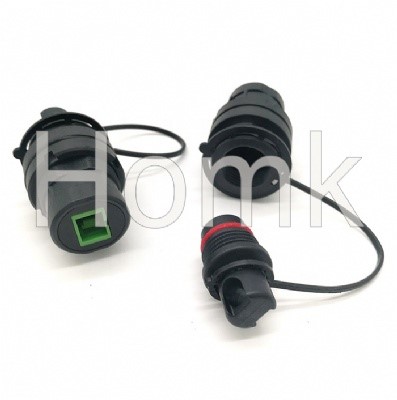 Product name : Corning OptiTap Compatible Fiber Adapter
Products Category: > Waterproof Fiber Series Products

Corning OptiTap Compatible Fiber Adapter
FIBERCAN uniqueToptap cable assemblies provide a cost effective, easy, environmental seal and mechanical protection for 1 fiber simple SC style connections. Special fool-proofing design make sure connector has blind-mating function; provides quick installation solutions and has good performance on mating with H receptacle, it can compatible with all the similar products in market, compatiale with Corning Opitap-SC. Cable can be flat drop or round cable, amored or non-amored. The industrial panel-mount, plastic adapters serve as a sealed feed-through for the fiber connection.
Specifications:
| | |
| --- | --- |
| Model | SM MM |
| SC Connector Fiber Count | 1 core |
| SC SX Adapter Mini SC compatible | PC, APC |
| Insertion Loss Standard type | less than 0.25dB |
| Insertion loss Elite type | Less than 0.2dB |
| Return Loss | PC >50dB, APC>60dB |
| Durability (500 matings) | less than 0.2dB |
| Pulling Force (N) | 450N |
Features :
*Provides moisture and dust protection for use in harsh industrial environments.
*IP67 protection, salt-mist proof, humidity proof, dust proof.
*Drastically reduces field splicing with a predetermined loss at each waterproof tether access point.
*Utilize traditional field installation techniques for aerial, below ground and duct applications.
*Reduce installation time by as much as 50 percent per network access point.
*SCAPC IL<0.3 typically.
*100% optically tested to ensure quality performance assemblies.
*Available in single mode and multimode styles to work with any common fiber type
*Broad temperature range (-40 to+85°C) is ideal for indoor or outdoor applications
Application :
1; Telecom networks tower;
2; CATV, LAN&WAN.
3; Broadband;
4; Outdoor FTTP, FTTA
Send Inquiry :
Related Products :
Contact Us
Tel: +86-755-86719651
Fax: +86-755-86719652
Mobile: +86-15875522184
E-mail: [email protected]
Add: Building 925, Chuangye Park, Li Shan Road, Taoyuan Street, Nanshan District, Shenzhen City
Whatsapp: +86-15875522184