Fiber Optical OptiTap MINI-SC Fiber Connector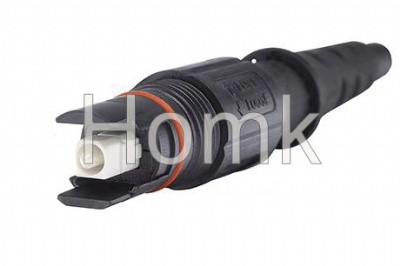 Product name : Fiber Optical OptiTap MINI-SC Fiber Connector
Products Category: > Waterproof Fiber Series Products

Fiber Optical OptiTap MINI-SC Fiber Connector
Specifications
New design FIBERCAN Toptap SC FTTA outdoor patch cord assemblies provide an cost effective, easy, environmental seal and mechanical protection for 1 fibers simplex SC style connections. Inside cover can protect ferrule end face far away scratch when mating with receptacle; Special fool-proofing design equal to HUAWEI Mini SC connector has blind-mating function; One hand Bayonet-style mechanical latch. The assemblies guarantee an easy, one-step connection system with the combined push-pull insertion and bayonet-style mechanical latch. It provides quick installation solutions and has good performance on mating receptacle / Adapter. Cable can be armoured or non-amoured. The industrial panel-mount, plastic adapters serve as a sealed feed-through for the fiber connection. The new industrial integrated flange-mount adapters are designed for tight, side-by-side applications.
Features :
1. Cost effective solution for in house termination
2. IP67 Water immersion and Dust protection for hash environment.
3. Chemical Resistance.
4. Simple assembly requiring no special tools ·
5. Push-pull insertion with bayonet-style mechanical latch provides easy installation and removal
6. Durable mechanical mating, minimum of 500 matings.
7. Wide range of operational temperature for outside plant -40 to+85°C
8. SC/APC IL<0.3 typically.
9.100% optically tested to ensure quality performance assemblies.
Application :
1; Telecom networks 5G tower;
2; CATV, LAN&WAN.
3; Broadband;
4; CPRI, FTTP, FTTA
Specifications:
InsertionLoss(IL)                  (IEC 61300-3-4)
MM
SM Super PC
SM Ultra PC
SM Angle PC
SM Angle PC Premiun
0.15dB type
0.15dB type
0.15dB type
0.15dB type
0.1dB max
ReturnLoss(RL)                    (IEC 61300-3-4)
>30dB
>45dB
>50dB
>60dB*
Operating temperature
﹣40℃ to ﹢50℃
Durability
min 1000 cycles
Assemblity
glue and polish
Connection
physical contact
Lock   mechanism
coupling nut and snap-on
Standards
Telcordla GR-3120
Ferrule   material
full ceramic zirconia
Send Inquiry :
Related Products :
Contact Us
Tel: +86-755-86719651
Fax: +86-755-86719652
Mobile: +86-15875522184
E-mail: [email protected]
Add: Building 925, Chuangye Park, Li Shan Road, Taoyuan Street, Nanshan District, Shenzhen City
Whatsapp: +86-15875522184