Outdoor waterproof H-Connector MiniSC connector in FTTX outdoor IP68 waterproof…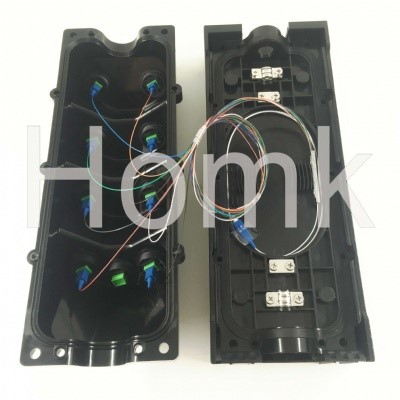 Product name : Outdoor waterproof H-Connector MiniSC connector in FTTX outdoor IP68 waterproof…
Products Category: > Waterproof Fiber Series Products

Outdoor waterproof H-Connector MiniSC connector in FTTX outdoor IP68 waterproof Optical Terminal distribution box
Features
FTTX Enclosure is a new economic fiber distributed solution for outdoor use. Compare traditional products, FTTX Enclosure is easy to operate and has high compatibility. It can be used for wall-mounting, aerial installation or holding pole installation, based on different situation.FTTX Enclosure not only used in FTTH field, but also used in FTTA or other harsh environment.
FTTH field
Traditional solution use ONU or FDH (Optical Network Unit/Fiber Distribution Hub), when trunk optical cable arrives to outside of mansions and villas. FTTX Enclosure can replace ONU or FDH because it has fiber distribution function. Inside, it can be fixed 2-4pcs 1*8 or 1*16 PLC, and can be put 24pcs fiber splice protection sleeves. After mating with 1-48F IP67 pre-assembled waterproof connector, FTTX Enclosure can connect each mansion and villa or low voltage silo directly. It can be fixed outside of mansions and villas, or holding pole installation. FTTX Enclosure can reduce signal loss through less connecting node. For in factory pre-assembled FTTX Enclosure, it's no need high skill operator because of no fiber splice operation. Installation efficiency can be increased by 40%.
FTTA field
Traditionally, Remote Radio Unit (RRU) and Building Base band Unit (BBU) connected by optical fiber cable, formed star network topology. Each RRU need one duplex outdoor cable link to BBU. Installation will need more time and cost will be high.FTTX Enclosure work as an Aggregation/Demark box, link RRU and BBU together. From BBU to FTTX Enclosure, only need one multi-fiber hybrid cable. Then FTTX Enclosure divide fibers to each RRU through IP67 pre-assembled waterproof cable assemblies. RRU can get power through assembled power connector on FTTX Enclosure.It can avoid needless duplication.
Trunk Cable Connecting
Trunk cable needs to be fusion welded frequently because of each drum cable length limited. So connecting point is weak and need to be protected very well. When trunk cable comes into FTTX Enclosure, it will be sealed and fixed by torsion proof cable gland (plastic or metal type). For 5mm-14mm out diameter cable,FTTX Enclosure has different accessories to fit. Torsion gland can release stress when trunk cable bending and protect fiber avoid breaking. Inside of the FTTX Enclosure, main cable and strength member were fixed by fastener, which make sure the box can stand 1200N pulling force long term. Splice protection sleeve (Max. 24pcs) and PLC (Max.2pcs) can be fixed on the body, which make FTTX Enclosure fiber divided very easy. Anti-skid design on the base case, which makes sure FTTX Enclosure holds wire/pole firmly.
Prospecting or Military Communication
The cable will be replayed frequently, when prospecting or military communication. Normal connector and cable cannot stand frequently and high strength pulling and reuse. Inside of the FTTX Enclosure, armored cable and strength member were fixed by fastener, which make sure the box can stand 1200N pulling force long term. It's very suitable for field use, especially in star network communications. High strength material and arc interface design make sure FTTX Enclosure work abnormally when suffer shocks.
Specifications:
InsertionLoss(IL)                  (IEC 61300-3-4)
MM
SM Super PC
SM Ultra PC
SM Angle PC
SM Angle PC Premiun
0.15dB type
0.15dB type
0.15dB type
0.15dB type
0.1dB max
ReturnLoss(RL)                    (IEC 61300-3-4)
>30dB
>45dB
>50dB
>60dB*
Operating temperature
﹣40℃ to ﹢50℃
Durability
min 1000 cycles
Assemblity
glue and polish
Connection
physical contact
Lock   mechanism
coupling nut and snap-on
Standards
Telcordla GR-3120
Ferrule   material
full ceramic zirconia
Send Inquiry :
Related Products :
Contact Us
Tel: +86-755-86719651
Fax: +86-755-86719652
Mobile: +86-15875522184
E-mail: [email protected]
Add: Building 925, Chuangye Park, Li Shan Road, Taoyuan Street, Nanshan District, Shenzhen City
Whatsapp: +86-15875522184