HK-V3 High precision V groove fiber alignment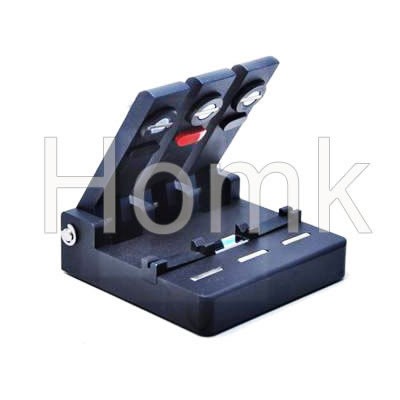 Product name : HK-V3 High precision V groove fiber alignment
Products Category: > Fiber tools

HK-V3 High precision V groove fiber alignment
HK-V3 type precision fiber aligner is mainly used in optical fiber testing, experiment, construction and optical fiber single disk test, and the active coupling connection between bare fiber and bare fiber. The utility model has the advantages of simple structure, reliability and convenient operation.
First, the structural characteristics and technical indicators:
Using high precision V positioning groove fiber, the two fiber collimation connection loss is less than 0.05dB (same single-mode fiber). Volume 90*70*24mm3, weight 260g.
Second, the use of methods and matters needing attention:
Fabrication of optical fiber section
First, the fiber optic peeling pliers are used to remove the covering layer of the fiber to be connected, about 40mm, and the bare cotton fiber is wiped with the anhydrous alcohol to wipe off the filth of the bare fiber. The fiber is cut with an optical fiber cutter or a ruby knife, and the bare fiber is about 10mm long.
Place the fiber
The bare fiber prepared from the left into the V slot in the end in the middle of V slot, hold down the left clamp fiber, then bare fiber end another prepared, picks up a little oil into the V slot, forward, tight contact with the end face of the fiber and then left. Put down the middle plate, and then put down the right side plate.
3, Matters needing attention
Do not use hard object impact, tick, precision V groove, so as not to damage the tank, affecting the accuracy of the connection. Every time you use, you must use alcohol stick to wipe off the dirt in the V groove.
Send Inquiry :
Related Products :
Contact Us
Tel: +86-755-86719651
Fax: +86-755-86719652
Mobile: +86-15875522184
E-mail: [email protected]
Add: Building 925, Chuangye Park, Li Shan Road, Taoyuan Street, Nanshan District, Shenzhen City
Whatsapp: +86-15875522184