HK-PG5  Longitudinal Cable Stripper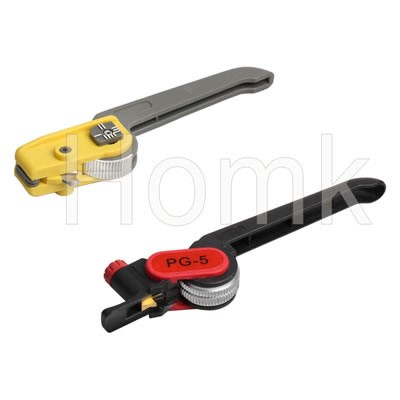 Product name : HK-PG5  Longitudinal Cable Stripper
Products Category: > Fiber tools

HK-PG5 Longitudinal Cable Stripper
Longitudinal  cable cutters (commonly known as "creepers") are an ideal tool for the  longitudinal stripping of optical cables in the construction and  maintenance of optical cables.
The tool itself consists of a handle, a gear clip, a double-sided knife, and an eccentric (adjustable four positions).
Adjusting  the four adjustable positions of the eccentric can be adapted to  stripping light (electric) cables of different outer sheath thicknesses.  Double-edged knife blades are special, sharp and durable. Black  and yellow light (electric) cable adapters, hexagonal screwdrivers,  packing boxes and operating instructions are also delivered with the  tool. The yellow adapter is dedicated to fiber optic cables, the black  adapter is suitable for cables smaller than 25 mm and the hexagonal  screwdriver is used to replace the double-sided knife.
In the actual longitudinal stripping operation of the optical cable,  the yellow adapter is put on the double-sided knife, after adjusting the  optical cable eccentric, the knife edge is inserted into the optical  cable, and the knife body is parallel to the cable, and the handle is  repeatedly pressed.
HK-PG5 cable stripper can be applied (AppliCable For):
Telecom Cable
MV Cable (PVC Insulator Construction) MV Cable (PVC Constructed)
LV Cable (PVC Insulator Construction) LV Cable (PVC Constructed)
MV cable (polyethylene insulated wire structure) MV Cable(PVC insulation)
Tool Parameters:
Capabilities Round cable diameter over 25mm/1.0 Inch
Handle glass fiber plus polyester material
Length 170 mm
Weight 0.15 kg
1. Can be used for peeling round cable with diameter over 25mm
2. Complete stripping of various insulation layers
3. Suitable for longitudinal cutting and surround cutting
4. Cutting depth can be adjusted to 5mm
5. Blades can be replaced (both sides can be used)
6. Arbor is made of glass fiber and polyester material.
Send Inquiry :
Related Products :
Contact Us
Tel: +86-755-86719651
Fax: +86-755-86719652
Mobile: +86-15875522184
E-mail: [email protected]
Add: Building 925, Chuangye Park, Li Shan Road, Taoyuan Street, Nanshan District, Shenzhen City
Whatsapp: +86-15875522184