2 Mtrs Patch Cord Test SM SCAPC Corning Connector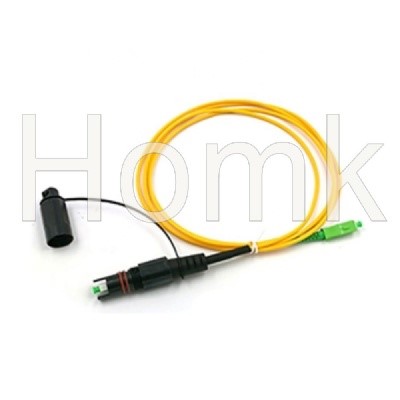 Product name : 2 Mtrs Patch Cord Test SM SCAPC Corning Connector
Products Category: > Waterproof Fiber Series Products

2 Mtrs Patch Cord Test SM SCAPC Corning Connector
Fiber-to-the-Antenna (FTTA)
Latest and next-generation mobile communication systems(GSM, UMTS, CMDA2000, TD-SCDMA, WiMAX, LTE,etc.) deploy fiber-optic feeders to link the base station with the remote unit at the antenna mast.
Automation and industrial cabling provides highest reliability and operating safety. The ruggedized design provides highest mechanical and thermal robustness which keeps the data lines alive even in case of
shock, strongest vibration, or accidental misuse.
Surveillance systems
Security camera manufacturers choose this connectors for its compact size and robust design. This assemblies are easy to install even in areas difficult to access and provide highest installation safety.
Naval and ship building
The high corrosion resistance convinced both naval and civil ship builders to use this assemblies for on-board communication systems. The nickel plated connectors withstand humid and salty environments and guarantee life times of 20 years and beyond.
Broadcast
offers a range of mobile cabling systems and this assemblies for temporary cable installations required for the broadcasting of sport events, car racing, etc.and for temporary connections in case of natural hazards.
Our advantage and special services:
1.With our own R&D, more completed production lines, advanced production & testing equipments, experienced staffs, we're confident to provide you satisfied quality and service with competitive price and punctual delivery.
2.Rich experiences in OEM&ODM, besides standard items, we can help you design unique new products and put into production. We care about innovation and would like to change for you and grow up with you.
3.Prompt answer for any question or inquiry within 3 hours
4.Using ERP Systerm to ensure that each link is correct.
Specifications:
InsertionLoss(IL)                  (IEC 61300-3-4)
MM
SM Super PC
SM Ultra PC
SM Angle PC
SM Angle PC Premiun
0.15dB type
0.15dB type
0.15dB type
0.15dB type
0.1dB max
ReturnLoss(RL)                    (IEC 61300-3-4)
>30dB
>45dB
>50dB
>60dB*
Operating temperature
﹣40℃ to ﹢50℃
Durability
min 1000 cycles
Assemblity
glue and polish
Connection
physical contact
Lock   mechanism
coupling nut and snap-on
Standards
Telcordla GR-3120
Ferrule   material
full ceramic zirconia
Send Inquiry :
Related Products :
Contact Us
Tel: +86-755-86719651
Fax: +86-755-86719652
Mobile: +86-15875522184
E-mail: [email protected]
Add: Building 925, Chuangye Park, Li Shan Road, Taoyuan Street, Nanshan District, Shenzhen City
Whatsapp: +86-15875522184