Variable Fiber Optic Attenuator HK-60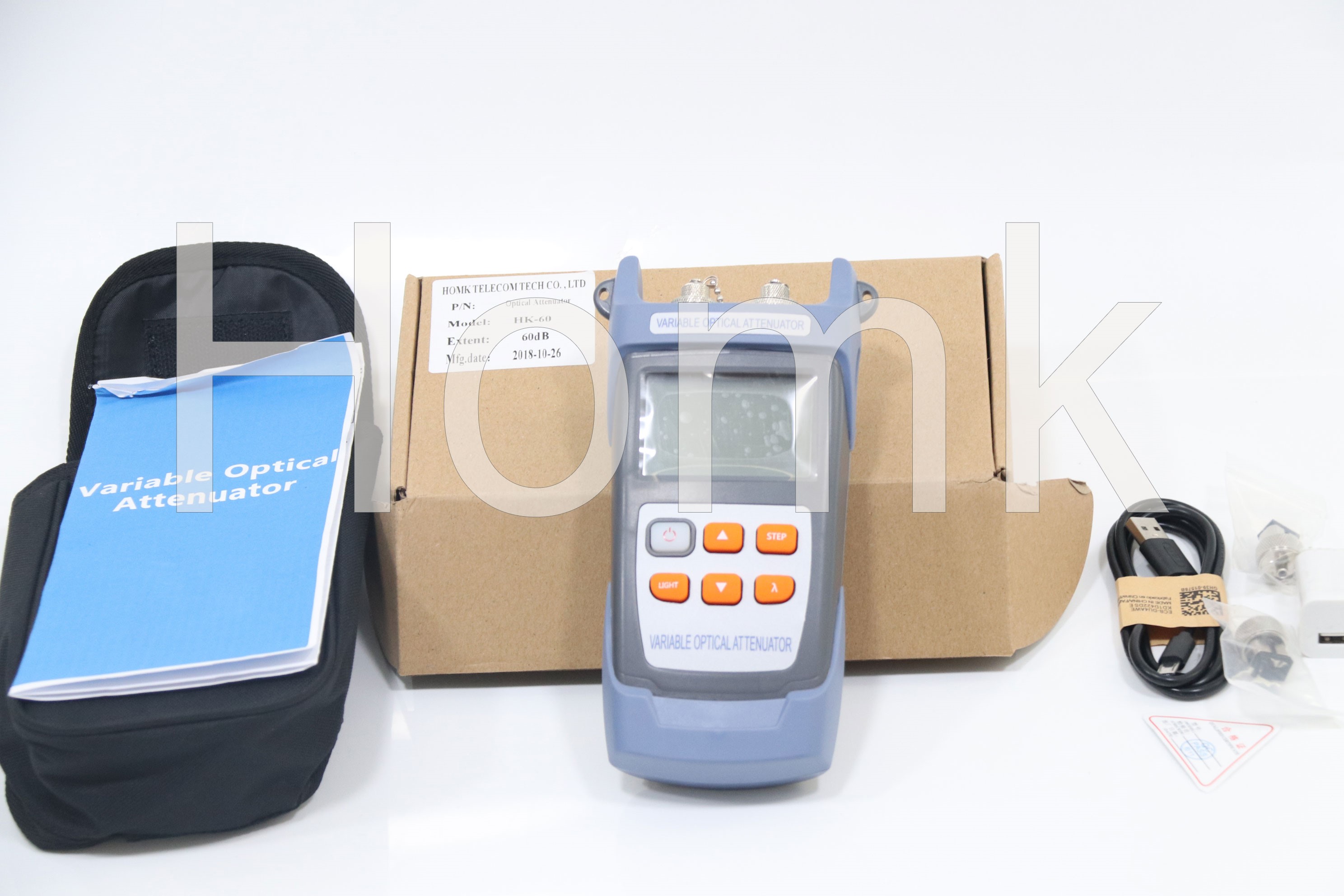 Product name : Variable Fiber Optic Attenuator HK-60
Products Category: > Fiber Optic Attenuator

Variable Fiber Optic Attenuator HK-60
Features:
Most compact and rugged portable attenuator on the market.
Three wavelengths: 1310nm / 1490nm / 1550nm.
Different attenuator range, 40dB, 60dB or 80dB.
Can save current value as reference.
Can save 10 tracks attenuation value.
Memorize the value after instruments shut down.
Energy save mode.
One-year warranty and Three-year recommended calibration interval.
 Model
 EVA50-40
 EVA50-60
 EVA50-80
 Attenuating Range
 40 dB (SM)
 60 dB (SM)
 80 dB (SM)
 Calibrated Wavelengths
 1310nm / 1490nm / 1550nm
 Fiber Mode
 SM
 Attenuating Mode
 Digital
 Display Resolving Power
 0.1 dB
 Display
 LCD, 128*64
 Max Input Power
 +28 dBm
 Return Loss*
 > 40 dB
 Insertion Loss*
 < 2.5 dB
 Connector
 FC/PC (or customize)
 Uncertainty
 ±0.5 dB
 Repeatability*
 ± 0.2 dB
 RS-232
 Optional
 Auto Power Off
 No operation in 10 minutes (can be canceled), Low battery energy
 Battery Charge
 Yes
 Operate Time
 Above 20 hours
 Power Supply
 3 * AA batteries or AC/DC adapter
 * at 20±3℃, CW, with FC/PC connector,1550nm
| | |
| --- | --- |
|  Size(H*W*D) | 190mm * 90mm * 40mm |
|  Weight | About 450g |
|  Storage Temperature |  -20 — +60 ℃, < 90%RH |
|  Operating Temperature |  -10 — +50 ℃, < 90%RH |
Send Inquiry :
Related Products :
Contact Us
Tel: +86-755-86719651
Fax: +86-755-86719652
Mobile: +86-15875522184
E-mail: [email protected]
Add: Building 925, Chuangye Park, Li Shan Road, Taoyuan Street, Nanshan District, Shenzhen City
Whatsapp: +86-15875522184