NTT-AT fiber cleaning sticks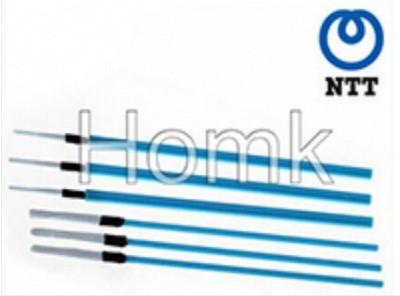 Product name : NTT-AT fiber cleaning sticks
Products Category: > Fiber toolkits

NTT-AT fiber cleaning sticks
Easy to use and efficient. Delivers a consistently high level of cleaning performance.
Easy to clean ferrule end-faces inside the plug-in fiber-optic connectors and various adaptors.
Lightweight and safe to use. Compact and disposable.
Suitable for cleaning inside adaptors due to dust control.
Specifications
Type
Type 2.5mm
Type 1.25mm
Type 2.0mm
Type 2.0/2.5mm
Part No.
14100400
14100401
14100402
14100403
Cleans per stick
Maintenance (for repair) 1 cleaning / piece
Connectots cleande
SC, SC2, FC, ST, DS
MU, LC
for connectors for high definition television camera
Dimension L (mm)
146
101
146
127
Packaging
200 pcs/set
200 pcs/set
200 pcs/set
100 pcs/set
Remarks
–
double ended
Notice1:Please do not use this product for other purposes than cleaning ferrule end-faces.
Notice2:The cleaning perforrmance may change depending upon the environment and contamination types.
Send Inquiry :
Related Products :
Contact Us
Tel: +86-755-86719651
Fax: +86-755-86719652
Mobile: +86-15875522184
E-mail: [email protected]
Add: Building 925, Chuangye Park, Li Shan Road, Taoyuan Street, Nanshan District, Shenzhen City
Whatsapp: +86-15875522184