Hybrid LC-ST fiber adapter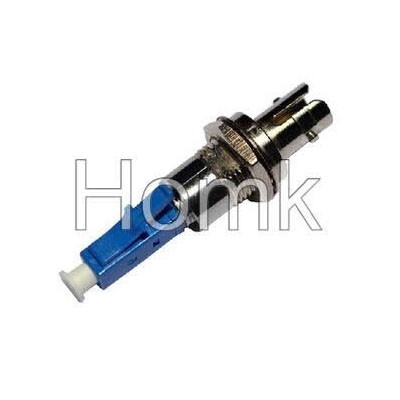 Product name : Hybrid LC-ST fiber adapter
Products Category: > Fiber Adapter

Hybrid LC-ST fiber adapter
Hybrid optical adapters with male to female configuration are very useful in connecting patchcords with different connectors.
Because both a connector plug (male) and an adapter socket (female) are provided, this hybrid adapter fits in various circumstances, offering flexibility and reducing the size, weight and complexity of the system.
It has low insertion loss and high return loss.
We provide hybrid adapters bridging popular connector types, such as FC, SC, ST and LC.
Features:
Insertion loss < 0.3dB

Return loss > 50dB (SM)

High repeatability

High environmental stability

Various of connector and adapter types
Specifications:
| | |
| --- | --- |
| Alignment Sleeve | ZrO2 |
| Housing Material | Zn-Alloy or Cu-Ni (metal) & Engineering Plastic Blue (plastic) |
| Insertion Loss | 0.30dB max., 0.10dB typ |
| Durability | 500 matings, 0.2dB max. increase |
| Retention Force | 200~600grams |
| Operating Temperature | -40~+80°C |
Send Inquiry :
Related Products :
Contact Us
Tel: +86-755-86719651
Fax: +86-755-86719652
Mobile: +86-15875522184
E-mail: [email protected]
Add: Building 925, Chuangye Park, Li Shan Road, Taoyuan Street, Nanshan District, Shenzhen City
Whatsapp: +86-15875522184