Sticklers CleanStixx Connector Cleaning Sticks MCC-XMT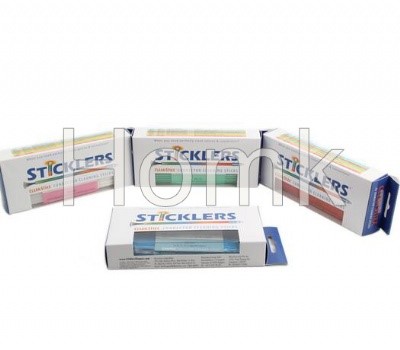 Product name : Sticklers CleanStixx Connector Cleaning Sticks MCC-XMT
Products Category: > Fiber toolkits

Sticklers CleanStixx Connector Cleaning Sticks MCC-XMT
The Sticklers CleanStixx Connector cleaning sticks are reliable, inexpensive tools engineered for critical cleaning of end face connectors located in mating sleeves or the contact areas of recepticles used in high-speed fiber optic networks. The various diameter cleaning sticks are color-coded for easy size selection and perfect cleaning performance on any size interconnect. Sticklers CleanStixx connector cleaning sticks get any fiber network running faster and more reliable than any other cleaning technology on the market today.
Place of origin: Made in USA
Feature
1> Precision molded to exact size & shape, for better cleaning
2> Cleaning stick for larger connectors and lenses, such as SMA, MPO, MTP (with or without pins), Biconic; also for cleaning lenses within recessed
3> Perfectly cleans the entire end-face, not just the central core
4> Color-Coded for easy selection
5> New Sticklers™ CleanStixx™ are the best answer for cleaning fiber optic connectors.
6> CleanStixx™ Tip Conforms to Every End-face, Including Tough-to-Clean APC Configurations
7> Only Sticklers™ CleanStixx™ Can Clean Any Connector, Any Configuration, Any Size, Every Time
8> Only CleanStixx™ Clean the Entire End-Face, Not Just the Contact Area
Specification
1> 50 Stixx per box, 6 box per case
2> Dimension: 12*12*15 (cm)/1 case, Weight: 270g
3> When used with the new Sticklers™ Fiber Optic Splice and Connector Cleaner, only CleanStixx™ can consistently and reliably meet the demanding cleaning performance required on today's gigahertz networks
4> Packaged in high-purity, reclosable bags
5> Military approved with National Stock Numbers (NSN#)
6> High-performance and low cost cleaning
7> The Molded Tip Out-Cleans Foam or Cloth Swabs; Are Less Likely to Leave Lint or Fibers
Send Inquiry :
Related Products :
Contact Us
Tel: +86-755-86719651
Fax: +86-755-86719652
Mobile: +86-15875522184
E-mail: [email protected]
Add: Building 925, Chuangye Park, Li Shan Road, Taoyuan Street, Nanshan District, Shenzhen City
Whatsapp: +86-15875522184