PDLC DX  Waterproof fiber connectors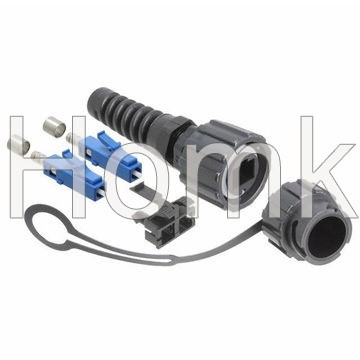 Product name : PDLC DX  Waterproof fiber connectors
Products Category: > Waterproof Fiber Series Products

PDLC DX Waterproof fiber connectors
The waterproof connector offers high performance armor fiber cable assemblies that are designed for use in different harsh environments and offer better protection than standard patch cords.
Stainless steel tube prevents fiber damage, improves system stability and reduces maintenance costs. They are suitable for LAN systems, FTTH, intelligent fiber optic networks in buildings, underground networks, closed-circuit television systems, broadcast and cable
networks.The waterproof connector has a variety of styles, such as waterproof cable connector, outdoor waterproof connector, plastic waterproof connector, 12-core and 24-core waterproof connector.

SPECIFICATIONS (Hybrid type adapter)
ITEM
PARAMETER
Applicative adapter type
SC,LC,FC,ST,MU,D4,DIN
Fiber mode
Single mode
Multi-mode
Adapter color
Blue, green, metal
Beige, metal
Test wavelength
1310nm, 1550nm
850nm, 1300nm
Insertion Loss
typical≤0.15dB,Max≤0.20dB
typical≤0.15dB,Max≤0.20dB
Repeatability
≤0.10dB
Interchangeability
≤0.20dB
Durability
≤0.20dB Max change,1000 mating
Channels
Simplex,Duplex,4channels
Body material
Plastic or metal
Sleeve material
Ceramic(ZrO2) or Customized
Operating Temperature
-20ºC to +70ºC
Storage Temperature
-40ºC to +85ºC
Send Inquiry :
Related Products :
Contact Us
Tel: +86-755-86719651
Fax: +86-755-86719652
Mobile: +86-15875522184
E-mail: [email protected]
Add: Building 925, Chuangye Park, Li Shan Road, Taoyuan Street, Nanshan District, Shenzhen City
Whatsapp: +86-15875522184