OM3 8F MPO-LC Fiber Optic Patch Cord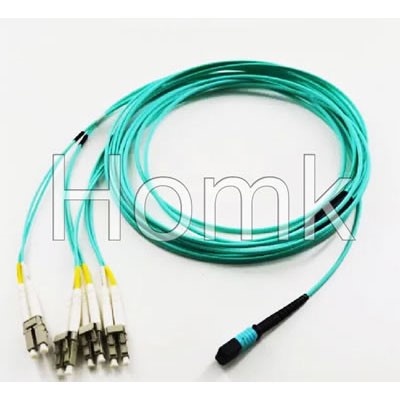 Product name : OM3 8F MPO-LC Fiber Optic Patch Cord
Products Category: > Fiber Patch Cord

OM3 8F MPO-LC Fiber Optic Patch Cord
Factory High-Quality OM3 24F MPO-LC Fiber Optic Patch Cord manufactured  by Homk is available in Female or Male MTP or  MPO connectors. Options are MPO-LC, MPO-SC, MPO-ST, MPO-FC and the MTP  versions are MTP-LC, MTP-SC, MTP-ST, MTP-FC fiber optic patch cable, and  fiber optic cable assemblies. An UPC/APC/PC single mode or multimode  round cable assemblies are optional. The fan-out/breakout cables are  ideal connection to patch panels and data distribution routing. These  can be made with 12 fiber MTP MPO connectors, 24 Fiber MTP MPO  connectors or 48 Fiber MTP MPO connector variations. Many additional  options and combinations are available. All multi fiber optic cables are  customizable.
Specification
8 x Fiber Ferrule MPO/MTP connector female (Un-pinned) or male (Pinned)
12, 48, 72, 96, 144 cores versions available
LSZH, OFNP, OFNR cable jacket types selection
Simplex and Duplex LC/SC/FC/MU/ST tails generic options
High  density: Ruggedized fan-out allows for direct connection between  backbone and active equipment eliminating rack space usage.
Rapid deployment: Factory terminated modular system saves installation and reconfiguration time during moves, ads and changes.
Reliability:  100% tested – combination of high quality components and manufacturing  quality control guarantees product to the highest standards.
Features
Compliant with IEC 61754-7
Compliant with Telcordia GR-1435-CORE
Usage
Data Centre Infrastructure
Storage Area Network- Fiber Channel
Technical Data
Type
Single-mode
Single-mode
Multi-mode
(APC polish)
(PC polish)
(PC polish)
Fiber count
8, 12, 24 etc.
8, 12, 24 etc.
8, 12, 24 etc.
Fiber type
G652D, G657A1 etc.
G652D, G657A1 etc.
OM1, OM2, OM3 etc.
Maximum Insertion Loss
Elite
Standard
Elite
Standard
Elite
Standard
Low Loss
Low Loss
Low Loss
≤0.35 dB
≤0.70 dB
≤0.35 dB
≤0.70 dB
≤0.35dB
≤0.60dB
Return Loss
≥60 dB
≥60 dB
N/A
Durability
≥500 times
≥500 times
≥500 times
Operating Temperature
-40℃ ~ +80℃
-40℃~ +80℃
-40℃~ +80℃
Test Wavelength
1310nm
1310nm
850nm
Send Inquiry :
Related Products :
Contact Us
Tel: +86-755-86719651
Fax: +86-755-86719652
Mobile: +86-15875522184
E-mail: [email protected]
Add: Building 925, Chuangye Park, Li Shan Road, Taoyuan Street, Nanshan District, Shenzhen City
Whatsapp: +86-15875522184