Miller FO-SnC ALL-IN-ONE Fiber Tool Stripping and Trimming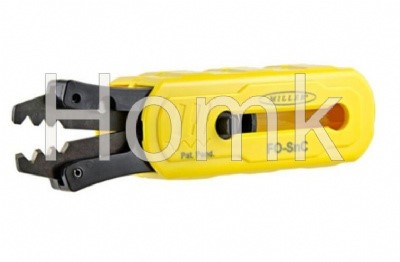 Product name : Miller FO-SnC ALL-IN-ONE Fiber Tool Stripping and Trimming
Products Category: > Fiber tools

Miller FO-SnC ALL-IN-ONE Fiber Tool Stripping and Trimming
The FO-SNC from Ripley's Miller line of fiber products is an all-in-one unique tool thats design combines jacket stripping, optical fiber stripping and cutting of Kevlar strength members in one compact tool body. It's three hole fiber stripper allows jacket removal from 1.6 to 3.0 mm cables, also included are two additional holes for stripping 900 micron tight buffer to 250 micron buffer coating and standard 125 micron fiber stripping (250 micron removal to 125 micron).
The fiber stripper and kevlar cutter slides out of the protective tool body when in use and slides back inside when not in use by activating the sliding tab located on each side of the tool.
Features:
1.Fiber stripper and the Kevlar cutter are conveniently stored inside the tool body when not in use, for extra safety and tool life protection
2.Easy to read fiber stripping diagrams are molded into the tool body
3.Tool body has a handy molded-in loop for attaching/hanging purposes
4.All cutting surfaces are precision formed, hardened, tempered and ground assuring precise tool performance
5.Factory set, requires no adjustment
6.Made in the U.S.A.
Specifications:
1.Largest stripping notch at the outer tip of the tool is used to strip cable jackets from 1.6- 3.0mm
2.Middle notch is used to strip 900 micron tight buffer down to the 250 micron buffer coating
3.Smallest notch is used to strip the 250 micron coating down to the 125 micron fiber
4.Dimensions: 3.75 x 1.25 x .70 in. (95 x 32 x 18 mm)
5.Weight: 3 oz (85 g)
Send Inquiry :
Related Products :
Contact Us
Tel: +86-755-86719651
Fax: +86-755-86719652
Mobile: +86-15875522184
E-mail: [email protected]
Add: Building 925, Chuangye Park, Li Shan Road, Taoyuan Street, Nanshan District, Shenzhen City
Whatsapp: +86-15875522184