MU fiber connector 3.0mm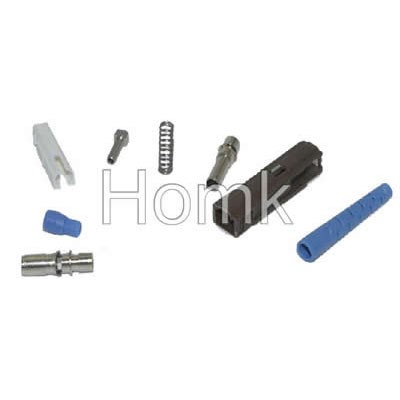 Product name : MU fiber connector 3.0mm
Products Category: > Fiber Optic Connector

MU fiber connector 3.0mm
1. Feature
1) Superior qualified standard polishing;
2) 100% optic test: Insertion Loss: ≤ 0.3 (PC); ≤ 0.2 (APC); ≤ 0.2 (UPC); ≤ 0.3 (SPC);
3) 100% optic test: Return Loss: ≥ 45 (PC); ≥ 60 (APC); ≥ 55 (UPC); ≥ 50 (SPC);
4) φ 0.9mm, φ 2.0mm, φ 3.0mm cable optional
5) Simplex and duplex connector available;
6) Good exchange ability and good durability;
7) Available in fiber bunch, ribbon fan-out, pigtail available;
8) Meets ISO9001, ROHS and Bell core GR 326-core standards;
9) Customized specifications are welcomed.
2. Applications
1) CATV, metro test equipment; FTTH;
2) Telecommunication networks;
3) Local area networks (LAN);
4) Wide area networks (WAN);
5) Premise installations;
6) Data processing networks;
7) Video and military active device termination.
8) Optical Distribution Frame
9)Optical Network Equipments
GST with own module in E2000 Fiber Optic Connector and accessories produce. And supply almost to 100 factories in China who do fiber cable assmble and connector traders.
1. Fiber Optic Connector and Connector kits -SC/APC
2. Singlemode
3. Producing Ability 10000 piece per day
4. Market China market and abroad
5. Price The cheapset in China, for large quanity, price more competitive.
GST Company with own injection workshop, press workshop, specializing in fiber optic connector and connector kits produce and export.
Main type
SC/PC, SC/APC, FC/PC, LC/PC, ST/PC, FC/APC
3.0MM, 2.0MM, 0.9MM,
Singlemode, multimode available
Item LC, SC, ST, FC, MTRJ, MU, SMA, E-2000, etc
Type Multi-Mode Single-Mode
Light Characteristic Operating Wavelength 850nm& 1300nm 1310nm & 1550nm
Typical Insertion Loss 0.2dB & 0.2dB 0.2dB & 0.2dB
Mechanical Testing Repeatability ≤ 0.2dB
Exchange ≤ 0.2dB
Durability > 1000 (Times)
Temperature Storage Temperature 25 ~+85
Operating Temperature 25 ~+85
Length, Color, Out-Diameter, Fiber counts According to the customers' requirement
Send Inquiry :
Related Products :
Contact Us
Tel: +86-755-86719651
Fax: +86-755-86719652
Mobile: +86-15875522184
E-mail: [email protected]
Add: Building 925, Chuangye Park, Li Shan Road, Taoyuan Street, Nanshan District, Shenzhen City
Whatsapp: +86-15875522184