Horizontal HK-100H Fiber Curing Oven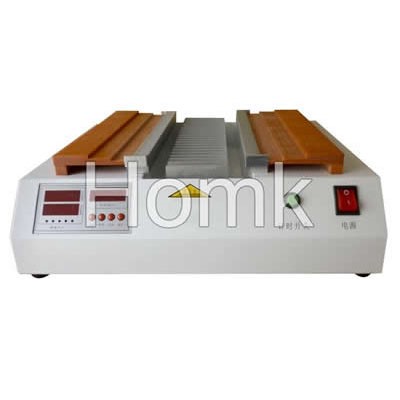 Product name : Horizontal HK-100H Fiber Curing Oven
Products Category: > Fiber Curing Oven

Horizontal HK-100H Fiber Curing Oven
The HK-100H adopts the industrial control chip,the PLD control algorithm in temperature,temperature,time function into an organic whole,digital display temperature, the buzzer alarm.The HK-100H provides a good human-computer interfaces, effectively improve the curing speed.
1. This machine uses Liquid Crystal Display (LCD) to be clear, the contact surface is friendly.
2. The oven is suits in fiber connector manufacturer, fiber curing oven uses in curing epoxy of fiber connector& ferrule.Such as FC, SC, LC, MU, MT, ST, E2000, MPO, MTRJ etc.
3. The HK-100H inserts core 100 ceramic ferrule, may also curing oven 40PCS of the integral-type connector.
4. It's temperature and the time establishes freely, the temperature control precision is high, Precise control system, adjustable temperature 0~300degree, temperature control accuracy to +- 1 degree only.And this fiber curing oven control the heating time by designation. The fiber curing oven easy to use and dependable.
5. Curing tooling can be replace, simple operation, this HK-100H suitable for curing epoxy resin of various joints, improve production efficiency.
6. According to customer needs, the fiber curing oven customized with different core number and size of the curing tooling heeating.
Parameter:
l            Voltage:AC220V/50Hz
l             Power:1000W
l            Control range:0~200℃
l            Control percise:±1℃
l            Timer range:1~99min 99seconds
l            Be suitable for SC,ST,FC,LC,MPO,MTRJ,E2000 ect
l            Machine Dimension:405×320×135mm
l            Net weight:6.5KG
l            Package dimension:400×490×180mm
Send Inquiry :
Related Products :
Contact Us
Tel: +86-755-86719651
Fax: +86-755-86719652
Mobile: +86-15875522184
E-mail: [email protected]
Add: Building 925, Chuangye Park, Li Shan Road, Taoyuan Street, Nanshan District, Shenzhen City
Whatsapp: +86-15875522184