HK-A1 Automatic Fiber End-face Cleaner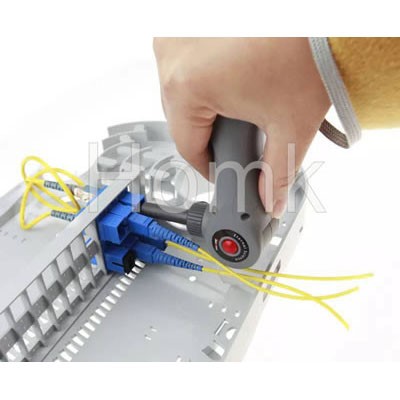 Product name : HK-A1 Automatic Fiber End-face Cleaner
Products Category: > Fiber Splice Closure & ODF & Terminal box

HK-A1 Automatic Fiber End-face Cleaner
Product description:
The  improved HK-A1 fiber end face electric cleaner has the biggest  feature of being able to bend and shorten, and it can also be longer. Optical fiber end faces within a narrow space of 9 cm, or far away  from 16 cm, can be easily cleaned, greatly expanding the field of  application for on-site cleaning and maintenance, making it the shortest  and most flexible optical fiber face cleaner on the market.
The HK-A1  Electric Cleaner inherits all the advantages of the Homk Series  Electric Cleaner. It not only cleans single core end faces such as LC,  MU, SC, FC, ST, and E2000, but also further promotes cleaning of MPO/MTP  interfaces. Positioning adapters and consumables can be installed and used on this  product to achieve the same product that can clean most of the fiber  end faces on the market.
HK-A1 Electric Cleaner has excellent miraculous cleaning effect, which is  better than specially developed cleaning materials. It is  wear-resistant, high-temperature resistant, non-breakable, and does not  fall into the category of inspection. It does not produce dirt itself. Because  it has a certain degree of elasticity and thickness, it withstands  precision pressure, and even if it is wiped at high speed, it will not  cause any damage to the hard fiber end face. No need to worry about cleaning. 3-5 seconds to complete a full-face clean, an exceptionally clean cleaning effect, and can be repeated cycle cleaning.
Features:
The cleanliness  reaches 99.5% and the consistency reaches 90%;
The clean area covers the entire end face. That is, A, B, C, D, E, all regions. Beyond all contact cleaners;
Not only can the floating dust be cleaned, but also serious stubborn dirt can be completely removed.
Can clean PC and APC end faces of all 2.5mm (SC, FC, ST, ME2000, etc.) and 1.25mm (LC, MU, etc.) male and female heads;
Can clean MTP multi-core PC / APC face (2-72 core), and all one-time clean, compliance rate of 99.5% or more;
3-5 seconds to complete a clean, simple and efficient;
Cleaning supplies can be recycled and cleaned up to 100 times/root (according to end contamination);
Low-cost cleaning, the minimum cost of each facet is 0.05, and the maximum is no more than $0.1 ;
The front end of the cleaner can be bent at 60° or 90°, the  overall length of the fuselage is shortened, and it can adapt to complex  cleaning scenes;
Cleaner use life of more than 10,000 hours;
energy saving;
The use of failure rate is as low as 1% or less (such as no breakage, winding failure phenomenon)
Send Inquiry :
Related Products :
Contact Us
Tel: +86-755-86719651
Fax: +86-755-86719652
Mobile: +86-15875522184
E-mail: [email protected]
Add: Building 925, Chuangye Park, Li Shan Road, Taoyuan Street, Nanshan District, Shenzhen City
Whatsapp: +86-15875522184