HK-0271 High Strength Pre-applied Thread Glue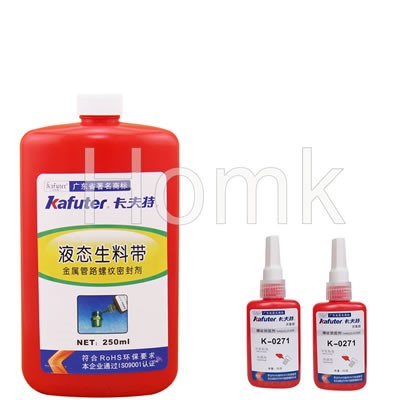 Product name : HK-0271 High Strength Pre-applied Thread Glue
Products Category: > Fiber tools

HK-0271 High Strength Pre-applied Thread Glue
Features:
HK-0271  (General Purpose/High Strength anaerobic adhesive) is an anaerobic adhesive with excellent single component, it is used for FC, ST Connector, thixotropy viscosity and high strength and medium resistance. This product cures between two closely fitting metal surfaces and is isolated from air.
Applications:
General-purpose,  high-strength, fast-curing, suitable for the fixing and sealing of  sliding fittings, fixing of bearings, gears, chains, process plugs,  etc., with a retention gap of less than or equal to 0.25mm. Typical use: screw locking and sealing, bearing locking.
Nature of product:
Base Chemical Composition Methacrylate
Appearance Light yellow viscous liquid
Viscosity (mPa.s) 300~600
Specific gravity 1.05
Flash point (°C) >108
Filling gap (mm) 0.13
Curing time at room temperature (min) ≤ 15
After curing performance:
Solid time at room temperature (hr ) 24
Shear strength ≥10
Breaking torque (N · m) 20
Average disassembly torque (N · m) 15
Operating temperature (°C) 54 ~ 149
Instructions for use:
The surface to be coated should be clean, dry and free of grease.
For slide fittings, it is only necessary to apply a circle of glue  around the shaft and the guide angle of the sleeve. Turn around to  ensure good coating during assembly.
For press fit, both surfaces to be bonded need to be filled with glue and assembled on a suitable high pressure press.
For shrink fittings, the glue should be applied to the shaft and  then heated to produce sufficient clearance for free assembly.
Do not move the assembled part until it has achieved sufficient strength.
Use cautions:
The high-strength anaerobic adhesive should not be used on plastic  parts; to avoid contaminating the original glue, do not pour the poured  glue back into the original packaging.
Safety Precautions:
The high-strength anaerobic adhesive contains methacrylate, which has irritating effects on the skin and eyes. If the skin comes into contact, clean it with clean water immediately;  if it touches your eyes, rinse immediately with clean water and go to  the hospital for treatment.
Packaging:HK-0271 is packaged in 50ml plastic bottles.
Storage conditions: Store in a cool, dry place at a temperature of 15 to 28 °C for a period of up to 18 months.
Send Inquiry :
Related Products :
Contact Us
Tel: +86-755-86719651
Fax: +86-755-86719652
Mobile: +86-15875522184
E-mail: [email protected]
Add: Building 925, Chuangye Park, Li Shan Road, Taoyuan Street, Nanshan District, Shenzhen City
Whatsapp: +86-15875522184