FTTH termination box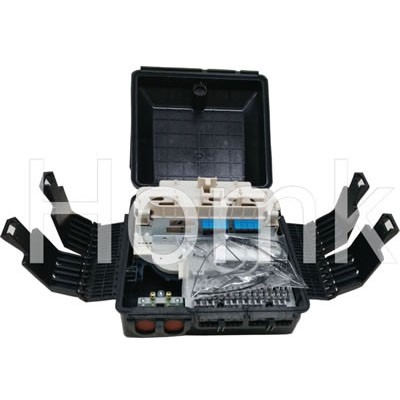 Product name : FTTH termination box
Products Category: > Fiber Splice Closure & ODF & Terminal box

FTTH termination box
Specifications
The Fiber Optic Terminal Box is widely used as a termination point for  the feeder cable to connect with the drop cable in the FTTx  communication network system, the fiber splitting, distribution can be  done in this box, and meanwhile it provides solid protection and  management for the FTTx network building
Feature
1. Industry Standard User Interface, be made of high impact plastic.
2. Wet-proof, water-proof, dust-proof, anti-aging, protection level up toI P65
3.  Cable, pigtails, patch cords are running through their own path  without disturbing each other,  cassette type SC / LC / PLC adapter  installation, easy maintenance
4. Distribution panel can be flipped up,feeder cable can go through a mid-span access way, easy for maintenance and installation
5. Anti-UV, Ultra violet resistant and rainfall resistant.
6. Function : Cable terminal
7. Splitter installation position : Splitter fixing bracket
8. Wall and pole mounting.
Send Inquiry :
Related Products :
Contact Us
Tel: +86-755-86719651
Fax: +86-755-86719652
Mobile: +86-15875522184
E-mail: homk@homk.net
Add: Building 925, Chuangye Park, Li Shan Road, Taoyuan Street, Nanshan District, Shenzhen City
Whatsapp: +86-15875522184