36 core MPO to LC Fiber Optic Terminal Box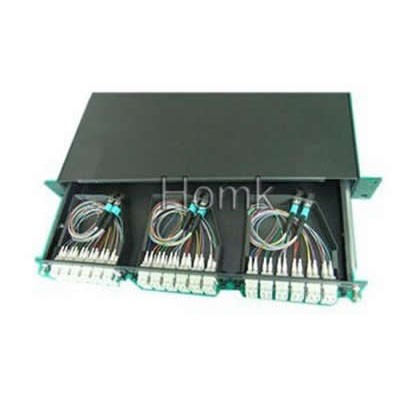 Product name : 36 core MPO to LC Fiber Optic Terminal Box
Products Category: > Fiber Splice Closure & ODF & Terminal box

36 core MPO to LC Fiber Optic Terminal Box
Description:
1.36-fiber MPO(M) to LC duplex connector
2.All metal compact breakout protector, leading internal crimp process, most reliable.
3.LC end with number tube label, easy identification.
4.Available in G and L class help your budget control.
5.Available divider type or join type LC duplex.
6.All length cable is available based on your demand.
Applications
Data Centre Infrastructure
Storage Area Network-Fiber Channel
Emerging 40 & 100Gps Protocols
Parameters
Multi Mode
Single Mode
IL
MPO
Single max :0.35db (L)                      Single Max : 0.60db (G)
Single max :0.35db (L)                                    Single max :0.75db (G)
LC
MAX :0.10dB(L)                     MAX :0.15 db (G)
 max :0.30db
RL
MPO
>20DB
>60DB (8 degree Angle Polish )
LC
>30db
>50 db (UPC)     >60DB(APC)
Mechanical
MPO
<0.2DB, 200 times insertion
LC
<0.2db, 500times intertion
Working Temp
-20~ +60 'C
Enviromental
Storage Temp
-40~ + 70'C
Install Temp
-5~ + 50'C
Send Inquiry :
Related Products :
Contact Us
Tel: +86-755-86719651
Fax: +86-755-86719652
Mobile: +86-15875522184
E-mail: homk@homk.net
Add: Building 925, Chuangye Park, Li Shan Road, Taoyuan Street, Nanshan District, Shenzhen City
Whatsapp: +86-15875522184