32 core Fiber Optic Distribution Box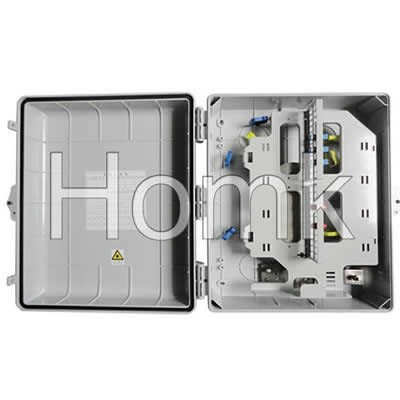 Product name : 32 core Fiber Optic Distribution Box
Products Category: > Fiber Splice Closure & ODF & Terminal box

32 core Fiber Optic Distribution Box
This FTTH distribution box terminates up to 2 fiber optic cables, offers spaces for splitters
and up to 8 fusions working under both indoor and outdoor environments. It is a perfect
cost-effective solution-provider in the FTTx networks.
Features:
1)ABS material used ensures the body strong and light.
2)Water-proof design for outdoor uses.
3)Easy installations: Ready for wall mount – installation kits provided.
4)Adapter slots used – No screws and tools needed for installing adapters.
5)Ready for splitters: designed space for adding splitters.
6)Space saving! Double-layer design for easier installation and maintenances:
7)Lower layer for splitters and over length fiber storage.
8)Upper layer for splicing, cross-connecting and fiber distribution.
9)Cable fixing units provided for fixing the outdoor optical cable.
10)Accommodates both cable glands as well as tie-wraps
11)Lock provided for extra security
Send Inquiry :
Related Products :
Contact Us
Tel: +86-755-86719651
Fax: +86-755-86719652
Mobile: +86-15875522184
E-mail: homk@homk.net
Add: Building 925, Chuangye Park, Li Shan Road, Taoyuan Street, Nanshan District, Shenzhen City
Whatsapp: +86-15875522184