24 Cores SC APC Fiber Terminal Box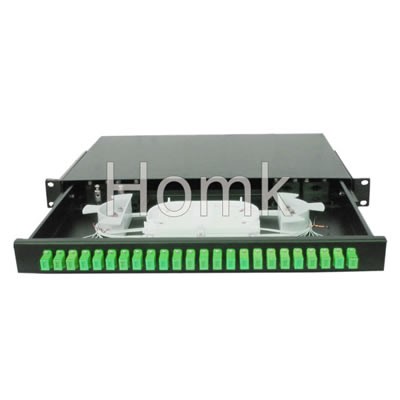 Product name : 24 Cores SC APC Fiber Terminal Box
Products Category: > Fiber Splice Closure & ODF & Terminal box

24 Cores SC APC Fiber Terminal Box
Suitable for FTTX project of high rise building,achieve through connection and branch
connection between distribution cable and customer cable in corridor.
Feature:
1. Suitable for wall mounted in siloof building corridor
2.Small size,light weight,high capacity,easy to splice and installation
3.Support through connection style
4.Preinstalled one pc of 24 fibers splice tray exclusively for FTTH drop cable
5.Suitable for connection one distribution cable with 24 pcs customer FTTH drop cables
6.Mechanical splice or fusion splice
7.Working Temp : -20°C~+65°C ;
8.Storage Temp : -25°C~+55°C
9.Relative humidity : ≤93%(+40°C)
10.Atmosphere pressure : 76kpa~106kpa(0m~5000m)
Advantage:
1.  UL certificate makes the quality lever be the best.
2. Independent research and development, Can be modified according to customer requirements
3. OEM package available, we can print your colored logo, print your OEM box, OEM Carton
Order Information:
| | |
| --- | --- |
| APP01-12-SC | 19″ Economy Fixed Patch Panel SC simplex 12 port 1U |
| APP01-24-SC | 19″ Economy Fixed Patch Panel SC simplex 24 port 1U |
| APP01-48-SC | 19″ Economy Fixed Patch Panel SC simplex 48 port 2U |
| APP01-12-SCD | 19″ Economy Fixed Patch Panel SC duplex 12 port 2U |
| APP02-12-SC | 19″ Premium Sliding Patch Panel SC simplex 12 port 1U |
| APP02-24-SC | 19″ Premium Sliding Patch Panel SC simplex 24 port 1U |
| APP02-48-SC | 19″ Premium Sliding Patch Panel SC simplex 48 port 2U |
| APP02-24-SCD | 19″ Premium Sliding Patch Panel SC duplex 24 port 2U |
| APP12-1U-18SC | Premium 19″ Rack Mount Patch Panel with rail 1U,18 ports |
| APP12-1U-24SC | Premium 19″ Rack Mount Patch Panel with rail 1U,24 ports |
| APP12-2U-24SC | Premium 19″ Rack Mount Patch Panel with rail 2U,24 ports |
| APP12-4U-144LC | Premium 19″ Rack Mount Patch Panel with rail 4U,144 ports |
| | |
| --- | --- |
| APP01-12-SC | 19″ Economy Fixed Patch Panel SC simplex 12 port 1U |
| APP01-24-SC | 19″ Economy Fixed Patch Panel SC simplex 24 port 1U |
| APP01-48-SC | 19″ Economy Fixed Patch Panel SC simplex 48 port 2U |
| APP01-12-SCD | 19″ Economy Fixed Patch Panel SC duplex 12 port 2U |
| APP02-12-SC | 19″ Premium Sliding Patch Panel SC simplex 12 port 1U |
| APP02-24-SC | 19″ Premium Sliding Patch Panel SC simplex 24 port 1U |
| APP02-48-SC | 19″ Premium Sliding Patch Panel SC simplex 48 port 2U |
| APP02-24-SCD | 19″ Premium Sliding Patch Panel SC duplex 24 port 2U |
| APP12-1U-18SC | Premium 19″ Rack Mount Patch Panel with rail 1U,18 ports |
| APP12-1U-24SC | Premium 19″ Rack Mount Patch Panel with rail 1U,24 ports |
| APP12-2U-24SC | Premium 19″ Rack Mount Patch Panel with rail 2U,24 ports |
| APP12-4U-144LC | Premium 19″ Rack Mount Patch Panel with rail 4U,144 ports |
Send Inquiry :
Related Products :
Contact Us
Tel: +86-755-86719651
Fax: +86-755-86719652
Mobile: +86-15875522184
E-mail: homk@homk.net
Add: Building 925, Chuangye Park, Li Shan Road, Taoyuan Street, Nanshan District, Shenzhen City
Whatsapp: +86-15875522184